Aluminium profile systems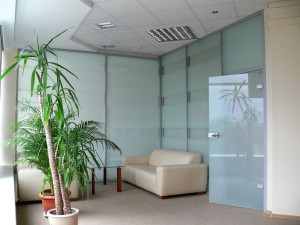 ALT110 office partition wall system
ALT110 is a system of office partition walls designed for arrangement of work area and various utility rooms to create comfortable working conditions. The system allows creating elegant interiors in the halls, meeting rooms, work rooms, and dividing halls in trade centers.
The variety of individual solutions is provided due to a wide range of design elements, texture and color decoration of the system. A wide area for designer experiments is provided by unrestrained combinations of glass and blind sections, tinted, matte and decorative glass and shutters of various types. The rich choice of types, colors and textures for the non-transparent filling enables the creation of a unique interior and decorate it in an unique style.
ALT111 Interior partition wall system
ALT111 interior partition wall system is designed for arrangement of work space in trading and exhibition centers, office buildings, and offers broad opportunities to design interiors for various purposes and functions.
Preparation of profiles for assembly actually consists of only one action: the profiles shall be cut according to the required dimensions at the most "convenient" 90° angle. We can forget about various labor intensive procedures like shaping or drilling of openings. The use of conductors for a precise drilling is not required in this case as well.
The own patented design concept of AluminTechno used in ALT111 system makes the installation (and dismantling) of partition walls easier. The key moment is to fix the filling via two types of clamps: symmetrical and asymmetrical. Assembly of the partition wall framework is performed with the help of brackets. The brackets are mounting attachments and are fixed with the help of self-tapping screws, thus the necessity to do a step-by-step assembly, a drawback peculiar to the majority of systems available in the market, is completely excluded.
ALT115 full-glass partition wall system
ALT 115 is a system of clamping profiles and component parts fastening tempered full-glass partition walls to the floor and ceiling. ALT 115 structures allow a uniform appearance of working space, a more effective use of natural sunlight, and visual extension of the room.
Due to innovative design developments and application of advanced solutions, Alutech was able to develop a unique system, with features exceeding its equivalents available in the market. This unique design solution is protected by a patent.
During the creation of the new product we took into account the proposals and recommendations of installation companies were taken into account, thus allowing development of an original system possessing a number of unique competitive advantages.
ALT118 light partition wall system
ALT118 system is designed for the manufacture of light partition constructions for the arrangement of locker-rooms, shower rooms and WC cubicles in offices, shopping and recreation centers, educational and other public institutions.
The partition wall structure is a frame made of aluminum shape providing an opportunity to install economical filling 16 mm thick. A laminated flakeboard can be used as the filling.
The system includes 5 profiles for the manufacture of modular cubicles with or without swinging doors. The doors are made of the same filling material.
The primary system concept is functionality and modern design. The use of ALT118 system provides for significant space savings. Besides, important advantages of ALT118 system are its reliability, economical efficiency and easy assembly.
Area of Application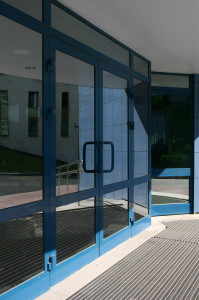 The constructions of aluminum ALT C48 system are designed to be installed in internal and external apertures of building walls. The system enables manufacturing of structures for external and internal doors, automatic sliding doors, entry groups, anterooms, shop-windows and internal partition walls in any administrative and public buildings and premises (shops, hypermarkets, business centers, offices, trade pavilions, gas filling stations, airports and railway stations, bus stations and etc.).
General description
ALT C48 system has broad functional capabilities and enables manufacturing of:
Window structures with furniture «euro-groove»;
Classic door structures with superimposed hinges;
Door structures with furniture groove «Fapim»;
Partition walls, combined structures;
Structures designed for the installation of automatic sliding doors;
Floating doors with floor closers.
The window series of profiles with euro-groove furniture makes it possible to install widespread furniture and manufacture windows with various opening types: swinging, swing-out, top-hung, bottom-hung opening inside.
The door series of profiles (both, the standard series and with FAPIM groove) are designed for the manufacture of 'coplanar' doors (inner and outer surfaces of frames and leaves are in the same plane). The series allow manufacturing of various swing door constructions: single-, demi-double and double-leaf doors; opening inside and outside; with superimposed (visible) and groove (hidden) hinges; with or without threshold; with top and lateral blind parts in one frame.
All series of ALT C48 system have one basic installation depth for the frame profile, which is 48 mm depth. The system features broad opportunities for the application of various types of filling: glass, double-glass, sandwich-panels, flakeboard and other materials. The product range of profiles, fillets and sealants in the system makes it possible to install fillings from 4 to 30 m thick.
Constructions assembly
The constructions are assembled via connecting vertical and horizontal profiles angles into contours, the so-called frames. Angle joints are done with the help of special embedded parts – «jetnuts» inserted into inner chambers of the profiles and fixed with single- and two-component glue and also mechanically. Mechanical fastening of angular joints is done via: pressing on a pressing machine or pin-type attachment. Horizontal and vertical aluminum profiles, impost profiles, are connected with the help of screws as well as embedded «jetnut» by pinning or fastening with self-tapping screws.
Standard profile colors: RAL9016 (white), RAL8017, RAL8014 (brown) and RAL9006 (silver metallic). Quality of profile coating complies with Qualicoat 2000 requirements.
ALT100 Balcony Glazing System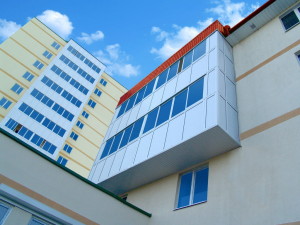 ALT100 is a system of aluminum profiles designed for manufacturing of balcony glazing frames. The frames protect balconies and loggias against rain and wind, noise and dust, improve thermal insulation, contribute to coziness and comfort. The system allows manufacturing constructions with sliding, swinging and fixed leaves. Various construction variants assembled on the basis of ALT100 series profiles can be combined with each other with the help of angle adapters and connectors. The number of leaves in a construction may vary depending on the width and height of the required glazing. Their height and width are selected on the basis of the wind loads affecting the construction in the region of application in compliance with SNiP 2.01.07-85 "Loads and Exposures" and SNiP 2.3.06-85 "Aluminum Constructions".
All ALT100 system profiles are extruded exclusively from the primary aluminum (as well as all the other ALT system products) and coated with polyester powder material that ensures durability and high resistance to atmospheric influence.
Purpose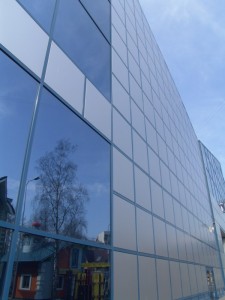 Rear-ventilated hanged cladding system is one of the most dynamically advanced trends in civil engineering. Architect and developers use it in their designs more and more frequently. For civil engineering organizations the installation of ventilated facades is always beneficial. Installation works with regard to such façades can be performed at any time of the year. Ventilated cladding system is always a reasonable solution for a customer: an opportunity to develop a corporate style, operational resource saving, life cycle comparable to that of the building.
The Alutech Group engineers have developed a high-tech general purpose system of profiles for hanged ventilated cladding system. In the course of development of ALT150 system the ALUTECH company engineers studied key problems occurring during erection of ventilated cladding systems and their long-term operation. The system has been developed taking into account current requirements to wall structure, and provides 100% realization of all the advantages of a ventilated facade.