Garage doors
Use
Alutech garage doors are widely used for the construction of cottages, garages and parking lots. There are a number of advantages of sectional doors: usability, reliability and safety, good sealing of opening and excellent thermal insulation.
Sectional door leaf consists of several sections loosely joined with steel hinges. Moving over the track profiles the door leaf moves from the vertical (closed) position to the horizontal (open) position under the ceiling. Such a path of motion of the door leaf allows to keep the opening dimensions, save space both in front of the door and inside the garage.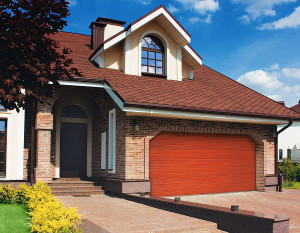 Alutech garage doors ensure safe operation for every family member. The doors comply with European Union directives regarding the product safety, as confirmed by test protocols. The protocols allow to mark Alutech doors with CE label.
Use of energy efficient panels and sealing of the entire perimeter of the door ensure appropriate temperature inside the garage.
Garage Doors Control Types
Sectional doors can be easily opened or closed manually, since their weight is compensated by spring assembly. To lift Alutech garage doors it is enough to apply the force of max. 150N (≈ 15 kg).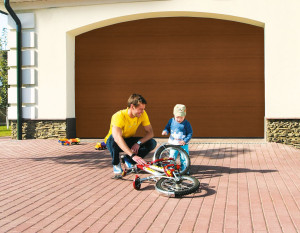 Garage doors are equipped with an electric drive therefore providing extra comfort in doors control. Automated garage doors equipped with remote control are easily controlled from the car. It is especially convenient in a nasty weather – rain or snow. To open the doors you should only press a button.
The life cycle of Alutech doors is designed for 25,000 raise/descent cycles, which approximately corresponds to 17 years of operation (4 raise/descent actions daily throughout the entire period).