Home Page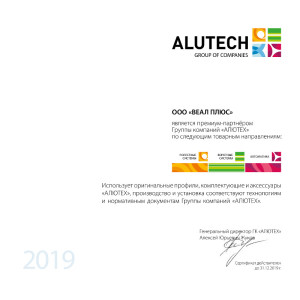 The company "Veal" is the official partner of the Group of companies «ALUTECH» in Petrozavodsk and Karelia. We offer a full range of services, including advice on the phone, check out the masters for measurement, preparation of all documentation, delivery and installation of the product, including the commissioning of automation and security.
Thanks to the service teams and the wide range of components and systems at our own warehouse, the company "Veal" performs warranty and service commitments regardless of capacity installation teams and the availability of spare parts in stock producer.
Cooperating with "Veal", you get a reliable partner in the field of portal systems and their automation, roller and facade systems. The company "Veal" offers a full range of manufactured and supplied by the group of companies «ALUTECH» product performs its installation, commissioning automation and security, and further maintenance of the equipment.
Our skilled managers will advise you and help you choose the product that meets you both in quality and price, and will record a free measurement at a convenient time for you.
We are waiting for you in our sales office at: Petrozavodsk, Lenin Avenue, 16. You can get advice by telephone: (8142) 78-34-14. Your manager – Lyatti Daria. Looking forward to seeing you Monday through Friday from 9:00 to 19:00, Saturday and Sunday from 12:00 to 17:00 without lunch and breaks.